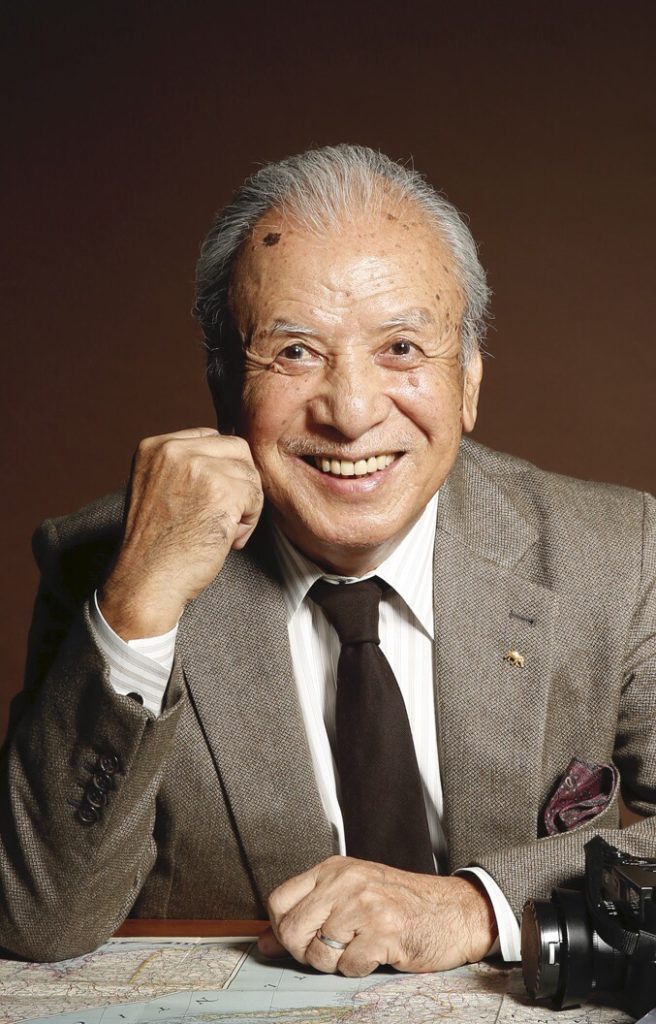 Born in Tochigi Prefecture in 1933. Moved to Tokyo after graduating high-school. In 1962, moved to Boston to study at Berklee College of Music after participating in many band sessions as a alto saxophone player. Representing as a top Japanese musician, also know as a talented photographer, publishes six picture books. As an Executive Producer of the Japanese Government Exhibition Project for the 2005 in Japan, advocates the message "World Peace" through music.
Performing in "International Jazz Day 2016" at the White House, hosted by the couple of U.S. president Obama.
The life-long active player who performs energetically not only in Japan but also overseas, gives courage and impression to people of all generations.
Photograph Collection: "MAISHA", "African Wind", "tam-tam pour l'Afrique", "la festa MILLE MIGLIA", "VANISHING TIBET", "One in the Same"
| | |
| --- | --- |
| 1933 | Born in Utsunomiya city, Tochigi Prefecture. |
| 1948 | Started playing clarinet in high school, inspired by the film "Birth of the Blues" staring Bing Crosby. |
| 1951 | After graduated high school, moved to Tokyo and began professional career as alto saxophone player. |
| 1953 | Joined Toshiko Akiyoshi's Cozy Quartet. |
| 1954 | Participated in "Mocambo Session" (his first recording). |
| 1956 | Became leader of the Cozy Quartet, after Toshiko left for the U.S. |
| 1958 | Joined George Kawaguchi's the Big Four(Big Four+1). |
| 1959 | Won the first prize at the category of alto saxophone player, readers poll of Swing Journal Magazine. |
| 1960 | Joined the West Liners and Kazuo Yashiro's Quartet. |
| 1961 | Released the first album "Sadao Watanabe". |
| 1962 | Moved to Boston to study at the Berklee College of Music. |
| 1965 | Performed and recorded with Chico Hamilton and Gary McFarland in the U.S. Became interested in Brazilian music, inspired by the "Sergio Mendes & Brasil '65". Returned to Japan. |
| 1966 | Formed own quartet or sextet and started the energetic music career in Japan. Began to instruct many Japanese musicians on the Jazz theory. |
| 1967 | Recorded the album "IBERIAN WALTZ" with Charlie Mariano. Released the album "JAZZ & BOSSA", created the big "Bossa Nova" boom in Japan. |
| 1968 | Performed at the Newport Jazz Festival, marked the beginning of international career. Recorded the album "SADAO MEETS BRAZILIAN FRIENDS" in Sao Paulo, Brazil. |
| 1969 | Started hosting radio program "NABESADA & JAZZ" on the Nippon broadcasting system. Released the album "PASTORAL" on CBS Sony. |
| 1970 | Performed at the Montreux Jazz Festival, and the live recording album "SADAO WATANABE AT THE MONTREUX JAZZ FESTIVAL" was released. Performed at the Newport Jazz Festival. Recorded the album "ROUND TRIP" with Chick Corea, Miroslav Vitous, Jack DeJohnette. |
| 1971 | Recorded the album "PAYSAGES" with Gary Peacock and Japanese musicians. |
| 1972 | The first trip to Kenya. Recorded "SADAO WATANABE" from the inspiration of African rhythm. Started hosting FM radio program "Sadao Watanabe ~ My Dear Life", became a popular long running for 17 years. Performed Dubois's "Divertimento" on alto saxophone with Kyoto Symphony Orchestra. |
| 1973 | Performed at the Montreux Jazz Festival. Held a concert with Nagoya Philharmonic Orchestra. Received Osaka Culture Award. |
| 1974 | Participated in "Jazz of Japan '74". |
| 1975 | Performed at the Montreux Jazz Festival. Traveled to Africa to compose a film music. |
| 1976 | Performed at the Indian Jazz Festival. Recorded "I'M OLD FASHIONED " with Hank Jones's the Great Jazz Trio in New York. |
| 1977 | Recorded the album "MY DEAR LIFE" with Dave Grusin, Lee Ritenour. Performed at the 1st "Live Under The Sky" festival. Received the 31st Arts Festival Grand Prize. Received the 2nd Nanri Fumio Award. |
| 1978 | Performed at the Jazz Yatra, India's the first international festival. Recorded the album "CALIFORNIA SHOWER" in Los Angles, became a huge hit and received the Japan Gold Disc Award. |
| 1979 | Released the album "MORNING ISLAND" recorded with Dave Grusin. |
| 1980 | Performed "Sadao Watanabe Recital at Budokan", attracted over 30,000 audience and released as the live album "HOW'S EVERYTHING". Embarked on his first U.S. concert tour. |
| 1981 | Recorded the album "ORANGE EXPRESS" in New York. Held concert tour in the U.S. |
| 1982 | Toured Los Angles, New York and Jamaica to record own radio program "My Dear Life". |
| 1983 | Released the album "FILL UP THE NIGHT", produced by Ralph MacDonald. |
| 1984 | "FILL UP THE NIGHT" was No.1 on the west coast chart of "Radio & Records". Released the album"RENDEZVOUS", reached No. 2 on the Billboard U.S. Jazz Charts. Held BRAVAS IN SOUND '84 "RENDEZVOUS" at the Budokan with Roberta Flack. Received the 1st Honors Award of Utsunomiya City. |
| 1985 | Recorded his first self-produced album "MAISHA", in Los Angles. Started holding "Sadao Watanabe Bravas Club" music festival. |
| 1986 | Received the 36th Ministry of Education Arts Award. Performed at the Montreux Jazz Festival. |
| 1988 | Recorded the albums "ELIS" and "MADE IN CORACAO" in Brazil. "ELIS" won No.1 on jazz chart of "Radio & Records". Received the City of Los Angeles Citizenship Citation. |
| 1989 | Released the album "FRONT SEAT", produced by George Duke, Robbie Buchanan, Russel Ferrante, won the first prize on the U.S. Jazz Chart. |
| 1990 | Performed at welcoming Nelson Mandela meeting at Hibiya Open-Air Concert Hall, Tokyo. Changed name of the event "Sadao Watanabe BRAVAS Club" to "Kirin the Club". |
| 1991 | Performed concerts in Singapore, Hawaii and London. |
| 1992 | Toured Africa, Canada and the U.S. Started holding Christmas concert "A NIGHT WITH STRINGS". |
| 1994 | Released the album "IN TEMPO", produced by Cesar Camargo Mariano. Received Ministry of Foreign Affairs Commendation. |
| 1995 | Received Cultural Honors Award of Tokyo. Started holding workshops in Tochigi Prefecture, teaching Brazilian rhythm to the Junior high students. Held concert tour in the U.S. Performed a concert in Brazil. Received Berklee College of Music Honorary Decorate Degree. Received Imperial Purple Ribbon Medal. |
| 1996 | Performed with Ray Brown at the memorial concert for the Great Hanshin-Awaji Earthquake victims. Said his experience in his first trip to Tibet was turning point to change life the better as musician. Performed at welcome luncheon meeting hosted by the Prime Minister for President Clinton. |
| 1997 | Traveled to India, and Tibet for 40 days to film the documentary of a TV program. |
| 1998 | Had an audience with 14th Dalai Lama. Performed at the Montreux Jazz Festival. |
| 1999 | Released 60th his leader album "REMEMBRANCE", won No.1 on radio chart "GAVIN". Performed concert tour in the U.S. |
| 2000 | Performed compositions by J.S.Bach with pianist, Michio Kobayashi at SUNTORY Hall. Released the album "SADAO 2000", co-produced by Richard Bona. |
| 2001 | Held the 50th anniversary concerts "My Dear Life" in Japan and Los Angels. Held concert tour in Asia and Europe. Inaugurated as the Executive Producer of the Japanese Government Exhibition project for the EXPO 2005. |
| 2002 | Received the 1st Cultural Honors Award of Tochigi Prefecture. |
| 2003 | Performed at "Kids for Banbini" charity concerts in 3 cities in Italy. Received MontBlanc International Culture Prize. |
| 2004 | Presented a song entitled "Share the World" for the EXPO 2005. |
| 2005 | Produced the events "Japan Day & Japan Week" and "Earth Sound" in the EXPO 2005 to perform with 400 youth percussion players and chorus from various countries. Performed with Charlie Mariano for the first time in 40 years at the Christmas Concerts. Received an award "The Order of Rising Sun". |
| 2006 | Released two live album "ONE FOR YOU / SADAO & BONA LIVE" and "SADAO & CHARLIE AGAIN". The first visit to Myanmar, performed with children. Held concert tour in the U.S. Performed with Hank Jones's The Great Jazz Trio in Japan. |
| 2007 | Performed with children from various countries in Java Jazz Festival, Jakarta. Performed Charlie Parker's repertory with string ensemble, arranged by Russell Ferrante at the Christmas concerts. |
| 2008 | Presented "SHARE THE WORLD" concert with a message to "connect different people's heart" in Expo Zaragoza with children from Spain, Portugal, Japan and Senegal. Performed at concert tour around in 6 cities in the U.S. |
| 2009 | Recorded the album "INTO TOMORROW" in New York. Performed at the Jazz festivals in Montreal and Toronto as a celebration of "80th anniversary of Japan-Canada Diplomatic Relations event". Received the Special Award in the Music Division of "50th Mainichi Art Award". |
| 2010 | Presented "SHARE THE WORLD" concert with 70 children for "Japan Day" at Central Park, New York. Performed at Japan Festival in Johannesburg, South Africa. Performed at concert tour in 4 cities in the U.S. with participating musicians "INTO TOMORROW". |
| 2011 | Participated in numerous domestic and international charity concerts to support for reconstruction projects after the Great East Japan Earthquake. Inaugurated as an invited professor in Kunitachi College of Music. Released the DVD "SADAO WATANABE 60th ANNIVERSARY ORCHARD HALL TWO NIGHTS" and the album "COME TODAY" as a celebration for the 60th anniversary of music career. Held celebration concerts in 5 cities in Japan. |
| 2012 | Re-visited Tanzania and Kenya for a field study of JICA activities. Inaugurated as art and musical director of "Art's Forest", at Sapporo Cultural Arts Foundation to instruct youth Big Band. Held "Sadao Watanabe Photo Exhibition MBALI AFRICA" at Mitsukoshi, Ginza. |
| 2013 | Recorded the album "OUTRA VEZ" in Brazil for the first time in 25 years. Presented "SHARE THE WORLD" concert in the 2nd Hideyo Noguchi Africa Award-Presenting Ceremony and Memorial Dinner Gathering with the chorus from a Fukushima prefectural high school students, with the Emperor Empress and leaders from various African countries as the audience. Performed in a Japan-America quartet at New York Blue Note. |
| 2014 | Performed at Java Jazz Festival in Jakarta. Held east coast concert tour in the U.S., was shot and put on the BS TV program and received "LIFETIME ACHIEVEMENT AWARD" at Washington Jazz Festival. Granted with Honorary citizenship of Tochigi Prefecture. Performed as "Sadao Watanabe Orchestra" including American rhythm section at the Christmas concert, and it was broadcasted in NHK BS TV. |
| 2015 | Performed in Malaysia, Hong Kong and Thailand. Released the live album "I'M WITH YOU", recorded the Christmas concert 2014. Released the album "NATURALLY", co-produced by Jaques Morelenbaum, a cellist from Brazil. Received the "Order of Rio Branco" from the Federative Republic of Brazil for over 50 years of contributions to Brazilian music. |
| 2016 | Performed in "International Jazz Day 2016" at the White House, hosted by the couple of U.S. president Obama. Performed in Botswana for "Republic of Botswana 50th independent constitution celebration". Performed in Nepal for "Nepal-Japan diplomacy 60th anniversary celebration". Re-performed the songs from the album "HOW'S EVERYTHING", by big band, "Sadao Watanabe Orchestra", including American rhythm section at the Christmas concert. |
| 2017 | Released "ENCORE!", the live album of the Christmas concert 2016. Recorded the album "RE-BOP" in New York, themed with bebop. Performed "CALIFORNIA SHOWER 2017" with Dave Grusin, Lee Ritenour again at "Tokyo Jazz Festival". Released "SADAO PLAYS BACH", recorded in SUNTORY Hall, 2000. |
| 2018 | Released the live album "RE-BOP THE NIGHT", performed with Russell Ferrante, Ben Williams and Kendrick Scott at Kioi Hall and other venues. Released "LOVE SONGS", the first ballad best album. Released 10CDs-BOX set (133 songs) "SADAO WATANABE'S WORLD – MY DEAR LIFE" by U-CAN. |
| 2019 | Performed in a Japan-America quartet at New York Blue Note. Held a photo exhibition "Hisamitsu Noguchi & Sadao Watanabe" at WAKO, Ginza. Participated in photo exhibitions,"Africa: Continent on Move" organized by TICAD7. Performed with Russell Ferrante, John Patitucci and Steve Gadd and released as the live album "SADAO 2019 LIVE AT BLUE NOTE TOKYO. |
| 2020 | CD album "SADAO 2019 LIVE AT BLUE NOTE TOKYO" received "CD Shop Award 2020 – Jazz Special Award". Performed as "Sadao Watanabe Orchestra" at MUZA Kawasaki and other venues. Held "Bop Night" concerts, were performed by quartet plus four horn players at Christmas Concerts. |
| 2021 | Held the 70th Anniversary Concerts "Jazz & Bossa with Strings" at Suntory Hall, and it was released as live recording album "Jazz & Bossa – Live at Suntory Hall". Participated in recording of the sound track, NHK TV morning drama serials "Come Come Everybody". Held "Salute to Duke Ellington" Concerts of "Sadao Watanabe Orchestra" at Christmas Concerts. |